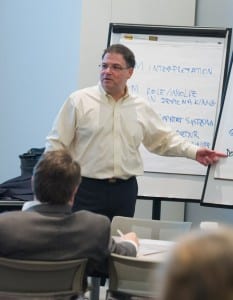 Focused Projects in Any Aspect of Alliance Strategy
Ben Gomes-Casseres puts his ideas and advice to work for clients in various ways. For some clients and events, he has delivered engaging keynote talks to large audiences. For others, he has developed custom workshops delivered in one or several days. Other clients have benefited from his consulting on focused issues, delivered in engagements to individual executives or small teams. Ben also has taught in various leadership development programs, where he addresses broader issues of strategy and management.
In all these engagements, Ben brings a unique way of thinking, an interactive style, and the findings from frontier research. His latest books Remix Strategy explains the three laws of success in business combinations, and presents twenty tools for decision making.
His clients have included General Electric, Bayer, Syngenta, Yahoo!, Johnson Controls, Battelle Memorial Institute, AMAG Pharmaceuticals, Abbott Labs, Eli Lilly, DuPont, Sun Microsystems, Motorola, Daimler, MasterCard, Qualcomm, Hewlett Packard, Chevron, and NASA. He has taught in executive education programs at Harvard Business School, Brandeis, INSEAD, and the University of Chicago. He is a frequent top-rated speaker at industry and professional conferences, such as at The Conference Board and the Association for Strategic Alliance Professionals (ASAP).
Sample projects are:
Presentation at corporate off-sites to launch new collaboration initiatives
Workshop to develop collaboration capabilities in teams or across the organization
Guidebook development for collaboration capability
Advising on partner selection and ecoysystem development in new business initiative
Health-check of existing collaboration, followed by advice to alliance board
Webinars and development of online learning modules
Class sessions on strategy in leadership development programs
Certification workshop for alliance managers